This will be a 4-week course (Eventbrite will show 5 classes when it is 4 classes. Google Analytics will be taught in great depth so you can properly attribute all of your marketing. This will be hands on with your own data as well as data for demonstration purposes. We will leave time at the end of every class to work on anyone's specific analytics accounts.
Dates for Classes:
This will be a 5-week course:
February 6th: 8:30 am to 10:00 am
February 13th: 8:30 am to 10:00 am
February 20th: 8:30 am to 10:00 am
February 27th: 8:30 am to 10:00 am
March 6th: 8:30 am to 10:00 am
This course is meant to be interactive and a learning environment. There is no question that is a dumb question when it comes to Analytics. The goal of the course will be for each attendee to pass the beginner Google Analytics certifications. It is not guaranteed that each person will pass, but this course will prepare you.
[ef-alert-box type="alert-info" close="yes"]There is a 15 person cap on this class![/ef-alert-box]
Instructor: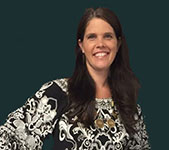 Over the last 10 years, Jennifer Denney has had a passion for digital marketing that keeps her hungry for more. Jennifer serves to help business owners solve their challenges and explain simple solutions. She stays very knowledgeable of the latest trends in digital marketing by continuing to grow through consistent self-educating, seminars and results. She currently owns and operates Elevated Marketing Solutions She is a certified google specialist in google analytics, google tag manager, google eCommerce, google search, Display/Remarketing, Video/Trueview, Shopping Campaigns, and Mobile. Not content with only those tasks, she is also the outgoing President of the IndyAMA, Board Member of the B2B Marketers of Indiana, and sits on a panel for Central Nine Career Center for Computer Technology. She believes an expert never stops growing their knowledge and a consultant always does what is best for their clients.
Class Reviews:
Jennifer Denney did a fantastic job of teaching Google Analytics for Beginners and Advanced. She was able to tie together the complicated concepts of Google Analytics in a way that made sense. Her real-life examples provided context for all of the different insights that can be gleaned from Analytics once everything is set-up and maintained correctly.
I strongly recommend taking one of Jennifer's classes on Google Analytics or on other Google products or on Digital marketing. Although you can find information, videos and help online, nothing replaces the real-time exchange of a live classroom to really understand the intricacies and interrelated nature of Google. Google Analytics provides a ton of data but it's not the data rather its boiling the data down to information and then turning that information into actionable insight. This is where Jennifer excels; others might get you to the big picture but she can get to the real point of utilizing Google Analytics in the first place."
Location:
The Speak Easy, 47 South Meridian Street, Indianapolis, IN 46204
Tickets: